20th October 2018
Samaung Galaxy Note 9, Google Pixel 3 XL or Huawei Mate 20 Pro. Which Should I Buy?!
I've had my Samsung Galaxy Note 9 for about a month now and I still really like it. There are a few things that annoy me a little, mainly around Samsung Experience, their own skin that replaced Touchwiz. Still, I thought I would take a look at the Pixel 3 XL and I would have one of my classic head to heads over Samsung's flagship and Google's flagship, pick my favourite and that would be my new phone into the new year. Then I watched a few videos on the Huawei Mate 20 Pro...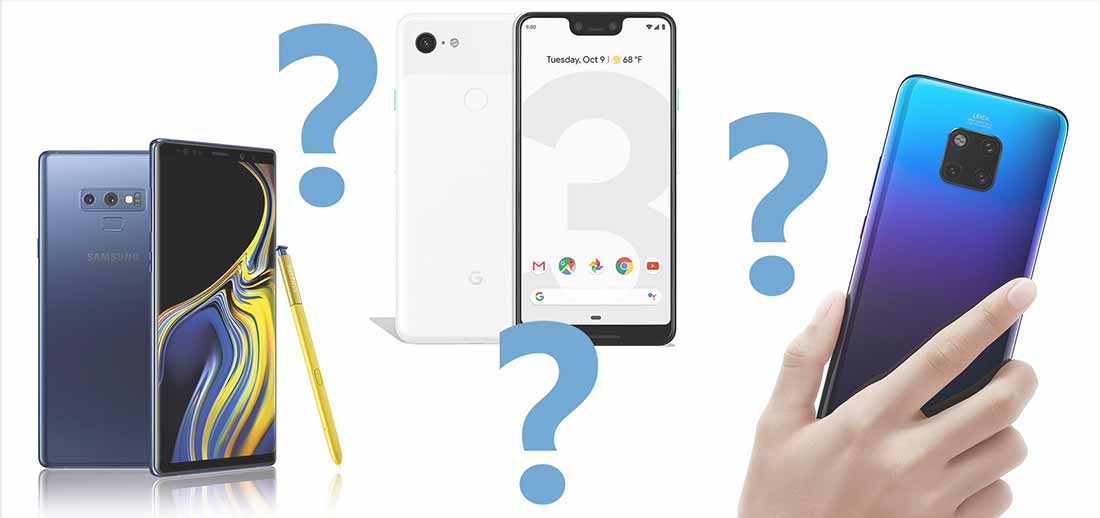 It really does look a pretty amazing device. The Huawei P20 Pro was widely acclaimed for having the best mobile camera on the market, better even than the Pixel 2 (and XL of course) so I shouldn't be so suprised that the Mate 20 Pro looks that impressive a device.
Anyway, lets take a look at some of the pros and cons for each device.
Samsung Galaxy Note 9
The phone I currently have as my daily. I have no real issues with it, in all honesty I should just be sticking with the Note 9... but if there's something better out there... I need to know!
Great build quality
2 lenses, regular and 2x zoom
S-Pen and DeX are cool
Possibly the best screen
Headphone jack
Programmable Bixby Button (Not Bixby itself!)
Samsung Pay
Heaviest of the three
Camera is 'average' compared to the other two
Samsung Experience Launcher
Still on Android 8.1
Pixel 3 XL
Whilst the original Pixel XL and then the Pixel 2 XL have been far from perfect, I love stock Android and I love the camera.
Fantastic camera and camera software options (Top Shot, Night Mode)
Instant Android updates
Stock Android
Wide angle front facing camera. Yes, I do take group selfies!
Back of device marks easy (even if the marks can be removed with a good clean, they wont just wipe off)
Actually the most expesive (if you compare 128GB versions)
Smallest battery
Mic sounds terrible on video recordings
No expandable storage
Worlds largest notch
Huawei Mate 20 Pro
A month or so back I thought it would be a two horse race, between the Samsung and the Pixel... then I saw videos on the Mate 20 Pro. I would be silly to ignore it!
Possibly the best camera of the three
Three lenses, 40MP main, 20MP Ultra Wide Angle/Macro and 8MP 3x Zoom Lens
Reverese wireless charging! Charge someone elses phone, from yours, using wireless charging
Based on Android 9.0
Smallest bezels of the three
Under screen finger print sensor
Largest battery at 4,200mAh
40W SuperCharge, 30 minutes gives 75% charge
7nm Chipset (Should be more efficient, take less power)
3D Face Unlock
Free Huawei Watch GT with pre-orders
EMUI launcher/skin
Likely very slow updates
Overly aggressive RAM management
Fingerprint Sensor is harder to find
On the face of it, the Note 9 comes out a few ahead of even, the Pixel 3 XL is down 2 and the Huawei Mate 20 Pro is a long way up! That makes it look pretty clear. I guess it just matters how important Stock Android might be. At present I have both the Pixel 3 XL and Huawei Mate 20 Pro on Pre-order, so there will likely be videos on them all coming soon!