27th November 2019
What I'm Eating To Lose Weight
Obviously, this is a tech site, as is my YouTube Channel. This year though, I've started to take getting healthy and losing weight very seriously. If you follow my YouTube channel you'll have seen big differences in me since March this year as I've lost over 6 stone in weight.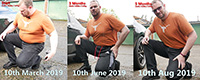 This is done using a pretty simply theory of move more, eat less, but of course it's not as simple as that. Eating less should also include eating the right things. I now check the calories on pretty much everything I eat and have found a few companies that help me control my calorific intake which makes the weight loss much easier to control. Here are the main companies I use. If you're going to try them (and I honestly recommend you do) then please use my affiliate links 👍
Huel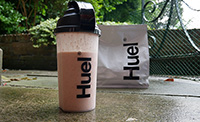 Huel was one of the firstr companies I used and perhaps the biggest change for me in my diet. Huel is a little like a jumped up protein shake, but is an entire meal replacement. Some people apparently just use Huel for their diet, eating little else. I don't take it that far, but most days in the last 8 months, Huel has been one of my meals, usually my evening meal. Each scoop is around 150 calories, so it's very easy to control your intake and much to my own surprise keeps me full like a propper meal would. Add in to that they taste fantasic (I love the Chocolote and the Berry flavours) and are made in a matter of minutes and it's something I give a lot of credit too in my weight loss.
Want to try Huel for yourself, use this link and save £10 on your first order.
MyProtein
Much like most people trying to lose weight, I love me some cookies and brownies! What I didn't want to do when losing wieght was not enjoy what I eat though, which is where MyProtein comes in. Not only does it really up my protein intake, but it means I get something sweet after most meals. Personal favourites are the 'Lean Protein Bar' at only 153 calories and 18g of protein and the 'Choc Crispies' at only 131 calories. If I want to treat myself I'll have a Protein Brownie at 287 calories and 23g of Protein.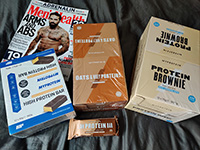 I've also recently bought their zero calorie Golden Syrup flavoured sauce, which is currently replacing honey in my porridge and natural yogurt.
Give MyProtein a try, please use this link and get free next day delivery for 6 months!
Muscle Food
These guys are one of my more recent finds, recommended by someone at work. I used them for the first time a week or so back and have placed a big order already. I order Prepped Pots from them, which are essentially ready meals that you keep in your freezer and then microwave for 6 or 7 minutes when needed.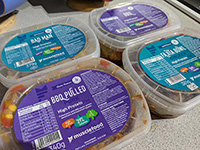 Again, it makes things very simple to prepare a meal and also to control your calories with most of them being between 300 and 370 calories, for what is actually a very tasty and satisfying meal. There are plenty of options, so right now I'm working my way through them to find my favourites.
I don't think they're badly prices at £3.99 each or 10 for £29 either so give them a try using this link to place your first order and get your choice of freebie from what they offer.
Skinny Food Company
I have only played one order with these guys so far and that was mainly for their zero calorie sauces. I got a ketchup, mayo, BBQ and Piri Piri sauce, all of which are much runnier than I expected but I've found cooking my chicken in the BBQ or Piri Piri sauce works really well. Unfortunately the ketchup and mayo are a little useless...
Find Skinny Food Co here.
Using these companies and tracking my calories in MyFitnessPal it's quite easy to stay at around 2,100 calories Eating this amount and burning 400-800 calories a day (30 minute run or 50 minute cycle) should mean you'll be losing a good few pounds a week like I did. Good luck!